Monitoring your clients' progress no longer needs to be a challenge.
InvestInU is here to make it easier for you to invest your time into others.
What makes InvestInU different?
InvestInU provides a simple but powerful platform that makes managing multiple clients easier, increasing your ability and availability to mentor more people. Oh, and did we mention it's free for Mentors?
How to get started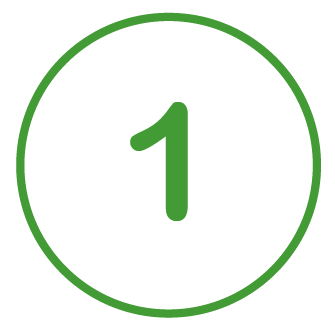 Sign up as a mentor
Click 'Sign Up Now' and select "I am a Mentor" from the signup form.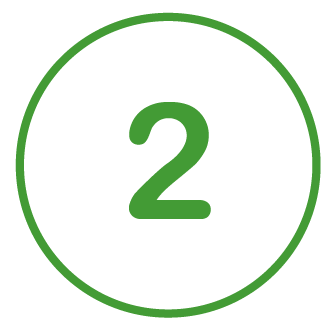 Register your client
Invite your clients to become InvestInU Members via email.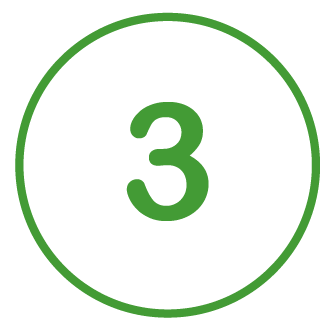 Engage and monitor progress
Support Members through your Dashboard.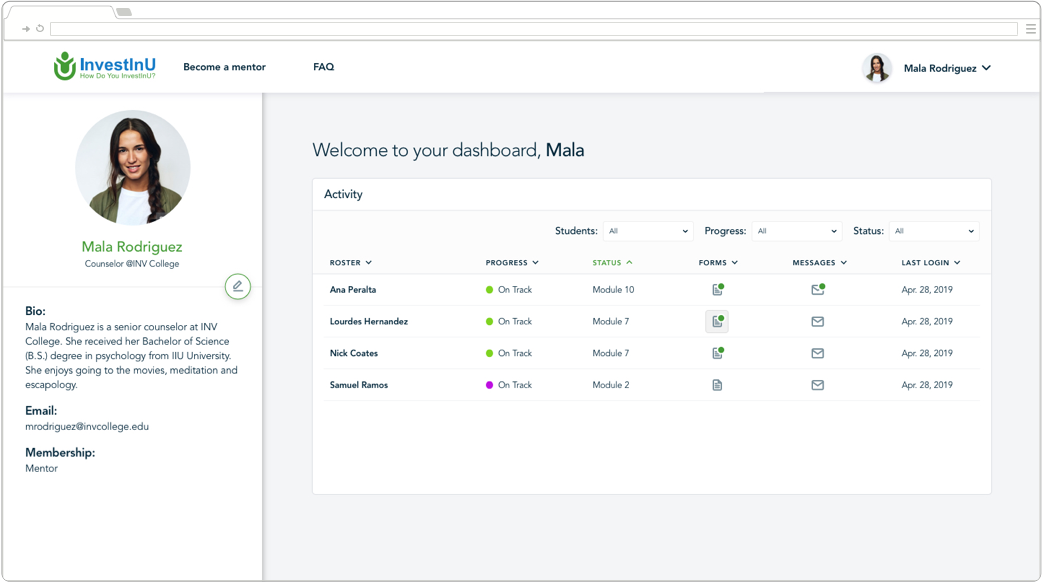 Using the Mentor Dashboard
With InvestInU's free Mentor Dashboard, managing and monitoring your clients' progress is easy.
Track activity
Follow your clients' progress in the Member Dashboard. Whether their progress is On Track or Delayed, hold Members accountable for completing their assessments and encourage them to keep the momentum going.
Grow your clientele
Having to juggle to-do lists, calendars, emails, and check-ins limits the number of clients you are able to mentor at once. The Mentor Dashboard takes away most of that heavy lifting, increasing your ability and availability to mentor more people.
Communicate effectively
Use the platform to chat with Members directly, keeping communication in a single place.
Frequently Asked Questions for Mentors
What is InvestInU?
InvestInU is both a program and platform that was designed to help people create healthy habits, set and achieve their goals, and benefit their lives overall.

It is a platform for supporting Mentors to:
- Elevate their clients' experience
- Promote the value of their coaching
- Deliver tangible results
- Grow their clientele
- Ensure their clients' work gets done

How do you InvestInU?
Mentors:
- Sign up as a Mentor by clicking the 'Sign Up Now' button
- Invite your clients to register as Members
- Use the Mentor Dashboard to engage with Members and track their activity


What does InvestInU cost?
Mentors:
As a Mentor for InvestInU, membership and the Mentor Dashboard are provided at no cost

Members:
InvestInU Members pay a monthly subscription of $10

Can I be a Member and a Mentor?
Yes, but you will need to sign up separately using different emails

Who is InvestinU for?
InvestInU is for everyone 18 years and older and is designed to benefit anyone at all stages of life

Ready to become a Mentor?
Now that you're ready to get started, it's time for you to take the next step.